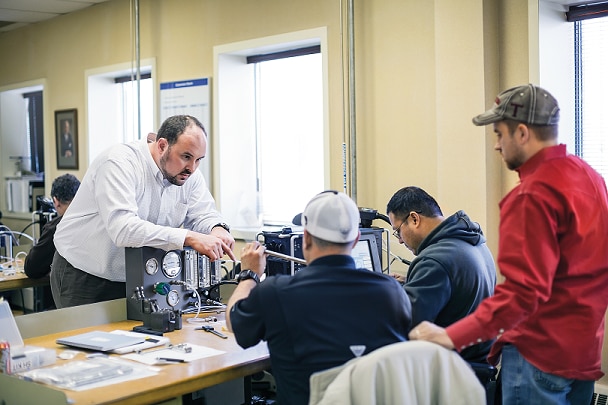 Swagelok Cambridge offers five, three-hour courses in Tube Fitting Installation, Tube Fitting Installation Inspection, Tube Bending, Medium and High-Pressure Cone and Thread Installation, and Hose. Fabricators, assemblers, engineers, maintenance, and management associates who take the courses will increase their skill level, knowledge, and efficiency. This saves money and supports lean initiatives.
Benefits of Essentials Training
Well-trained associates increase the productivity and safety of the workplace.
Flexibility in scheduling and location of training makes it easier to participate.
Takeaways include a certificate and training manual.
Discounted pricing for multiple courses.
Course Descriptions
---
Tube Fitting Installation
Teaches students foundational tube fitting knowledge that will minimize risk of leakage and ensure system integrity.
Upon course completion, students will know how to:
Properly select, cut, and deburr tubing.
Correctly assemble a Swagelok® tube fitting and gauge a tube fitting assembly.
Understand the differences in tube fitting designs, tube fitting components, and their importance to proper assembly.
Identify thread types and installation practices, and properly prepare threaded installations.
This course may include VCR® Metal Gasket Face Seal Fitting Installation Training by request.
For fabricators and assemblers. May be of general interest to engineers.
GET MORE INFO
---
Tube Fitting Installation Inspection
Teaches students how to mitigate and minimize risk of leakage through proper inspection.
Upon course completion, students will be able to:
Identify correct tube system placement and correctly install Swagelok® tube fittings.
Identify mixed component fittings and the use of correct tubing type.
Point out common tube bending defects and how they impact a fluid system.
Demonstrate the correct use of thread tape.
For engineers, supervisors, and project managers.
GET MORE INFO
---
Tube Bending
More connections mean greater potential for leaks. The Swagelok Tube Bending Essentials course offers foundational knowledge needed to introduce bent tubing to your system to eliminate connections and leak points found in traditional welded pipe systems.
Upon course completion, students will be able to:
Explain three variables that must be considered when bending tube.
Explain the purpose of the straight tube length mark on the name plate.
Calculate the length of tube used in an offset given all necessary information required to make the calculation.
Describe springback, how it affects the bending process, and ways to compensate for it.
Explain minimum length of the last leg and describe how this length can be used.
Bend tubing into a shape as specified by a template using the Swagelok method of tube bending, bend data, and tube bender.
Identify the components of the Swagelok hand tube bender.
Explain the purpose of the three types of marks used in the Swagelok method of tube bending.
Identify five potential bend defects and explain their causes.
For fabricators and for engineers who need to understand tube bending in order to incorporate tubing in their design.
---
Medium and High Pressure Cone and Thread Installation
Consistent performance, especially in critical applications, is important to a successful system. This course offers foundational knowledge in cone and thread preparation and installation tailored to bring optimal performance to your medium or high pressure system.
Upon completion, students should be able to:
List safety precautions when using the coning and threading tools.
Describe medium and high pressure fittings and differentiate the components between the two.
Demonstrate the proper use of the coning and threading tool (including tube preparation, inspection, and maintenance).
Install cone and thread fittings, and perform basic troubleshooting.
For maintenance and technician associates at facilities using high pressure systems.
---
Hose
Extend your production cycle, ensure safety, and lower total cost of ownership by understanding the fundamentals of fluid system hose.
Upon course completion, students should be able to:
Define common terms pertaining to hoses.
Describe how to evaluate hose fit for purpose.
Discuss hose selection variables, list common practices when conducting hose inspections, and discuss best practices for preventative maintenance of hoses.
For maintenance, technician, engineering, and management associates.